Eventually found my fairtrade shoes!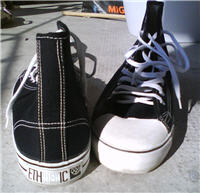 Remember my very first post on this blog? I was looking for fairtrade shoes in Lausanne… I've found them at last! (Though not in Lausanne… I've heard that the "Soeurs Boa" in Lausanne sell the whole range of BlackSpot models every spring, but it's not spring yet).
Instead, Anto brought them back from her trip to Paris: The Ethletic Sneakers. These shoes don't just look cool, they are great in several aspects:
Environmental
The natural rubber sole of our ETHLETIC sneakers is sourced from a plantation in Sri Lanka, where rubber is produced in a sustainable and responsible manner.

Environmental protection and social requirements for the workers are equal concerns of the management, in both the harvesting and the manufacturing process.

For this reason ETHLETIC sneakers carry the logo of the Forest Stewardship Council (FSC © 1996, Cert.-Nr. IMO-COC 25582) on the sole.
Social
World Premiere in Fair Trade

For the first time anywhere in the world rubber has been sourced in line with Fair Trade criteria. A Fair Trade premium is paid for the soles of the ETHLETIC sneakers, which is used to finance measures on the plantation, which in turn help improve the living and working conditions of the workers and their families.

Fair Trade in Production, too

Fair Trade criteria are also applied in the production unit in Sialkot/Pakistan, where the sneakers are manufactured. They contribute to the workers receiving a better pay deal.
(Quotes from http://www.ethletic.com)
So… Finally, I'm very happy that I did eventually get shoes corresponding to criteria I consider important, even though I seem to be the only one around for the time being.