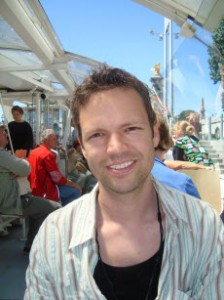 Hi,
Thanks for stopping by.
My name is Alan. I was born in Geneva in 1971 and I currently live in Lausanne, Switzerland.
I used to manage digital communication projects in the daytime and do science communication at night.
My new challenge is to merge both expertises into one new company : Big Bang Science Communication, a Communication Agency / Brand Consultancy dedicated to the scientific community. The website is now live in French BigBangScience.fr/fr and in English BigBangScience.fr/en.
What is this blog about?
Not much, really. Though I do post a thought, a rant or a link every now and again, this blog is mainly intended as a mere hub to my digital presence. This is where you will actually find me:
» www.BigBangScience.fr, my new company
» www.podcastscience.fm, my science communication radio show & blog
» Facebook
» Twitter
» Google+
» Linkedin
» Work Experience Certificates and usual documents / Certificats de Travail et documents usuels (PDF, 17 Mo)
See you soon!