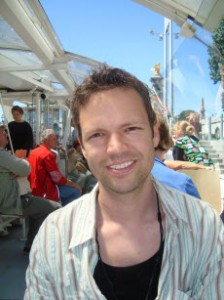 Hi,
Thanks for stopping by.
My name is Alan. I was born in Geneva in 1971 and I currently live in Lausanne, Switzerland.
In my day job, I manage web projects. I work as a "Product Owner Assistant" for Liip, a Swiss company that specialises in Agile Web Development.
At night, I'm a Science Podcaster. I believe Science is one of Human Kind's highest achievements, and yet it is not always perceived as such. If scientists are brilliant at what they do, they're not always quite as good at explaining what it is that they do. The very concept of "Popular Science" does not exist in the French-speaking world. Yet. My goal is to change that. Well… To be a part of the change… That's why I launched Podcast Science in 2010: It's a weekly audio podcast (and a blog) in French. I'm not alone in doing this, I have a brilliant team made of actual scientists and amateurs like myself.
In the long run, I want to make a living out of my Science Communication activities and eventually become a science writer. Still a long way to go 😉
What is this blog about?
Not much, really. Though I do post a thought or a link every now and again, this blog is mainly intended as a mere hub to my digital presence. This is where you will find me:
» www.podcastscience.fm, my actual blog.
» Facebook
» Twitter
» Google+
» Linkedin
» Work Experience Certificates and usual documents / Certificats de Travail et documents usuels (PDF, 17 Mo)
See you soon!